*Analysis of Marilyn's Wikipedia Page*
Posted on December 4th, 2013 at 7:19 pm by barmstr3 and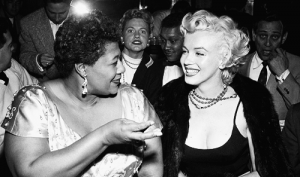 After doing extensive research on Marilyn Monroe Wikipedia does a pretty good job of accurately summarizing main aspects of her life. Her page on the site is broken down into the following categories:
 Family & Early Life
Career
–       Early work: 1945-1947
–       Breakthrough: 1948-1951
–       Leading Films: 1952- 1955
–       International Success: 1954- 1957
–       Last Films: 1958- 1962
Death & Aftermath
Administration of estate
Personal life
One thing that I found disappointing on the site was aspect of Marilyn's life that is not mentioned on the site is that Marilyn was a big supporter of the civil rights movement. For example, Ella Fitzgerald was one of Marilyn's idols and a major inspiration. However, the Mocambo nightclub in West Hollywood, the most popular dance spot at the time, refused to let Ella perform there because she was black. Marilyn was outraged and told the owners that if they would let Ella perform, she would be there in the front row every time Ella was onstage. She did, and the two became friends.
According to the great Ella Fitzgerald:
"I owe Marilyn Monroe a real debt…it was because of her that I played the Mocambo, a very popular nightclub in the '50s. She personally called the owner of the Mocambo, and told him she wanted me booked immediately, and if he would do it, she would take a front table every night. She told him – and it was true, due to Marilyn's superstar status – that the press would go wild. The owner said yes, and Marilyn was there, front table, every night. The press went overboard. After that, I never had to play a small jazz club again. She was an unusual woman – a little ahead of her times. And she didn't know it."
I think that if this aspect of Marilyn's life was added to her Wikipedia page it would give readers a great understanding of who she was as a person and not just some sexualized icon.